Spurred on by the recent one year anniversary of the release of v0.01 and the YouTube videos by Rod Hull (HE IS ROD HULL!) of TheFutureWas8Bit fame showcasing my long filename browser for esxDOS with his DivMMC Future device, I thought I'd post a small update.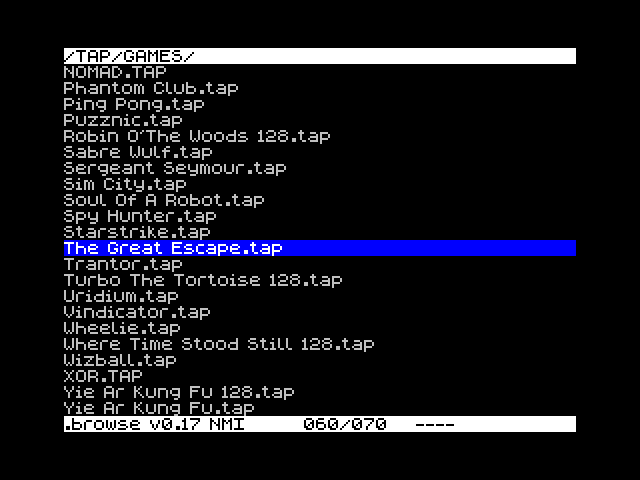 At the time of writing this, version 0.17 has just been released which contains a couple of important bug fixes to the code used by the NMI version of the browser. So, if you're on an older version or running the No_MMC_Memory version on your divIDE device, I would strongly recommend updating to this version even if you're just using it to launch your .tap and snapshot files and not using some of the more advanced functionality.
As always, you can get the latest version of the browser here and the forum thread at spectrumcomputing.co.uk is a good place to ask for advice, request features, report bugs and get the latest test versions of the browser before official releases.
If you're a fan of videos with poor production quality, that use the Spectrum ROM font and feature shonky camera phone or video capture footage, then you may also be interested in my fledgling YouTube channel, where you can find videos highlighting new features in upcoming versions of the browser.
I'd like to say a big thank you to all the people who have reported bugs, made suggestions, given feedback and spread the word about my browser. Seeing where the browser is now, just a year on from the first release (which only worked with .tap files on FAT16 cards) is very satisfying!